News
News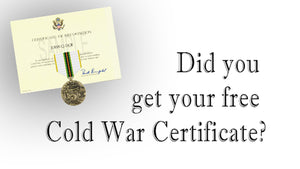 Did you request your "FREE" Cold War Recognition Certificate?
Cold War Veterans - Did you request your "FREE" Cold War Recognition Certificate?
Recently, I had the pleasure to talk with Jose from DOD Guidons and we discussed Cold War Veterans and the Cold War Victory Medal. 
Interestingly, this medal is the official medal of National Guard in Louisiana, Texas, and Alaska is ribbon only.
For all you other non-rates, lol! It is an unofficial "commemorative" medal never to be worn on the uniform. Unless you fall into the National Guard criteria above.
However, it is a sought after design at DOD Guidons and extremely popular on Pocket Square Heroes. 
There have been a few attempts to make it official and the last bill introduced was during the 112th Congress and it did not make it through.
Let us know in the comments any new bill please infomation.
However, I did find a "Cold War Recognition Certificate" and here are some details from the National Personnel Records Center (NPRC). You will need your DD-214, or equivalent to apply for the CWRC. 
The Army hosts the Cold War Application and it is never easy. 
The "NEW APPLICATION LINK" page host a dead-link, lol. Which I hope is fixed by now, anyway I found a workaround, no worries.
Click the image below and download the application. Read all of the information on this page and get your free certificate. 
Q2, just makes me laugh and shake my head, but nonetheless, outstanding! 
Again make sure to check out all the instructions, download, fill out the application and submit it.
"Well it's not what you Cold War Veterans deserve but it is something, so take the 10 minutes and send in your application."
Who will volunteer to test this process out and report back? 
Check out the Pocket Square Heroes Cold War inspired design!